Have you heard of Pauli Murray?
Thursday, June 16, 2022, 7 PM to 8:30 PM (Eastern)
As PRI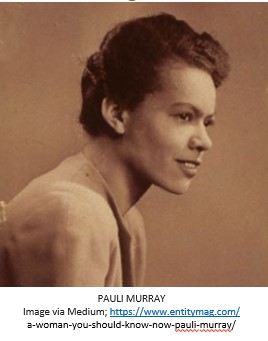 DE month begins, we turn to the intersectionality of civil rights, women's rights, and gender rights. Have you heard of Pauli Murray? Anna Pauline (Pauli) Murray, (November 20, 2010 - July 1, 1985) an architect of the civil rights struggle and the women's movement, was an activist, organizer, lawyer, priest, poet, and writer. She challenged race and gender discrimination over her lifetime in legal, societal, academic, and religious circles. Murray and her parents identified as black ('Negro' was the term Murray used) but her not-so-distant ancestors included slave-owning whites and Cherokee Native Americans. And she fought for civil liberties for many groups, not just blacks (women, Latino children, etc.)
Join us to learn from attorney and researcher Susan Hall Mygatt '69 about this iconic black (mixed race), feminist, gender-fluid woman, ahead of her time, who had been almost completely erased from the narrative of two of the most important American social justice movements of the 20th century - civil rights and women's rights - in which she was directly involved and for which she helped to articulate the intellectual foundations.
Namely, Murray's legal scholarship, as a law student (and only female student in her class) at Howard University Law School, and, later, as a practicing attorney, provided the groundwork for arguments (uncredited) by Thurgood Marshall, head of the NAACP Legal Defense and Educational Fund and chief attorney for the plaintiffs, in the landmark case Brown v Board of Education, overturning Plessy v Ferguson ('separate but equal') and for Ruth Bader Ginsburg's challenge to the 14th Amendment, on behalf of women's rights; Murray was a named co-author on Ginsburg's 1971 Reed v. Reed, in recognition of her pioneering work on gender discrimination. She was a co-founder of the National Organization of Women and maintained and extended, an earned friendship with Eleanor Roosevelt based on social conscience considerations.
Long before concepts of transgenderism and targeted therapies, Murray privately wrote about her gender identity and sexuality, expressing a deeply-held belief that she was a man trapped in a woman's body, for which she instinctively requested, and was denied, hormone therapy. It took years for the medical community to catch up. Murray, who did not self-identify as a lesbian, had same-gender relationships with 'bi-sexual' women; she believed they were attracted to her masculinity.
Now, finally, it is this progressive, intersectional identity that has made her a revolutionary pioneer. Susan Hall Mygatt, '69 has researched Murray's life through an examination of Murray's own considerable published works, including her autobiography Song in a Weary Throat: An American Pilgrimage, published posthumously in 1987 and the biographies and critical analyses of social and political historians exploring Murray's place in the civil rights and women's rights landscape of the mid-20th century. Here, she will provide you with a mere taste of Murray's history, stature and impact, leaving you with the hunger to learn more and references and resources to explore further on your own.
Prior to her lecture, Susan suggests you may wish to read the 2017 New Yorker article The Many Lives of Pauli Murray and/or view the documentary My Name is Pauli Murray (available on Amazon - the link is for the trailer only).
About Susan
Susan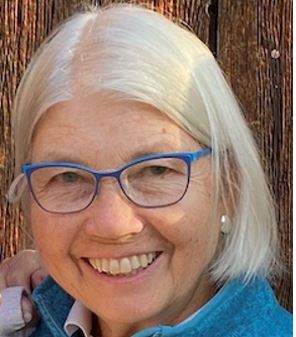 Hall Mygatt '69 was a government major at Smith and is, currently, a retired real estate attorney, who resides outside of Boston, MA. Susan's interest and expertise in Pauli Murray derive from her participation in Harvard's prestigious (competitive admission) Life-long Learning Program for Retired Adults where she eventually made a required presentation - six, 2-hour-long study group sessions based on Pauli Murray's life and legacy. She has presented study groups on this topic and others 4 times.
Susan has recently completed her third 3-year term on the Board of Smith Students Aid Society, a resource for Smith students which, like Murray, is not widely known!
Topic: Have You Heard of Pauli Murray?
Date: Thursday, June 16, 2022 (Eastern)
Time: 7:00 pm - 8:30 pm (Eastern)
Attendance: 100
Cost: Members and Nonmembers - free of charge
Members and Nonmembers: Click to Register
You must be registered before 5:00 PM on Monday, June 16, 2022, to join the event.
Zoom information will be provided to registered guests by 5:00 PM on Wednesday, June 15, 2022, and, again, on the day of the event, up to two hours before the event.