Artist Reception with Carlyle Upson (Chaudruc '92)
Thursday, January 26th, 6:00 PM - 8:00 PM
---
Smith College grad Carlyle Upson (Chaudruc '92) majored in Art History and Economics before earning a Master of International Affairs from Columbia University. She has traveled extensively across six continents including a year backpacking alone across Asia. After living in Manhattan for ten years she moved to Darien, CT where she established her art studio focusing on contemporary abstracted nature paintings.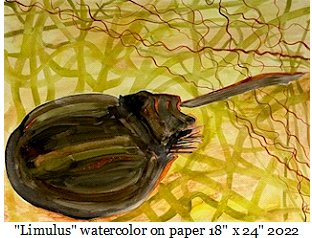 This exhibition of Carlyle's bright watercolor paintings explores her participation in a citizen scientist program at Sacred Heart University which studies Horseshoe crab populations along the Eastern seaboard.
Ceres Gallery is a feminist, not-for-profit, alternative gallery in New York City, dedicated to the promotion of contemporary women in the arts.

Come join us to enjoy the art, light refreshments, and camaraderie!
---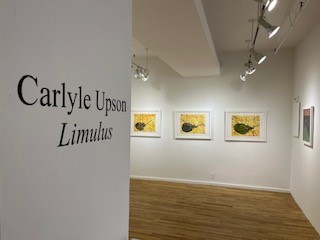 Artist Carlyle Upson's watercolor paintings of Horseshoe Crabs (Latin name Limulus) are inspired by her experience of counting, capturing, tagging, and measuring these prehistoric creatures through a citizen scientist program called Project Limulus through Sacred Heart University program in coastal New England. This body of work uses a lens of color courage to interpret the horseshoe crab's camouflage in shallow seagrass as they come ashore to mate during the full moons of May, June, and July. At night things can appear black, but as our eyes adjust to the moonlight one can discern the brilliant contrast of the crab's carapace against its environment.
---
Artist Reception with Carlyle Upson (Chaudruc '92)
When: Thursday, January 26, 2023 | 6:00 PM - 8:00 PM
Location: Ceres Gallery, 547 West 27th Street #201, New York
Cost: Free to Members and Non-members