Dead Poets Rise - Where Players Become Poets
Wednesday, May 31, 2023 | 7:00 - 9:00 PM
---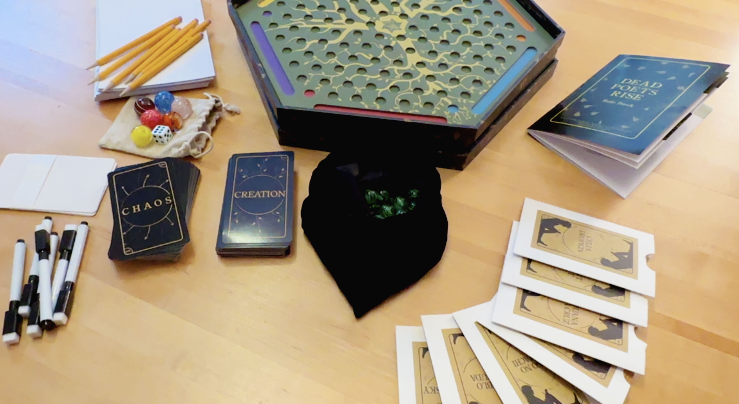 Anna Purves, '83 is hosting a board game table at Hex&Co East for fellow Smithies to try out her invention Dead Poets Rise—where players become poets!
Whether you're a poetry die-hard or poetry-averse you will have a unique social experience that is both fun and challenging.
For more info and to see videos of the game in action, please visit our site https://www.dpr.games and our posts on Instagram, Kickstarter, LinkedIn, and Facebook @deadpoetsrise.
Anna is a poet and writer, an Emmy award winner, and recipient of three awards for her poetry and fiction from the Bronx Council on the Arts. She is planning to launch her new game on Kickstarter this August!
Game rules
*2-6 players move across the board towards the Center of the Underworld, collecting 7 required marbles and writing 7 lines according to prompt cards to create their own Poem-in-Progress. Once arrived you must successfully overcome the Challenge of the Sphinx to rescue the Dead Poet. Win or lose, everybody gets to take home their own poem at the end.
*Fun fact: Heidi Reavis '81 of Reavis, Page, Jump, LLP is handling our Intellectual Property needs!

Event: Dead Poets Rise - Where Players Become Poets
When: Wednesday, May 31 from 7-9 pm.
Where: Hex&Co-East, 1426 1st Avenue by 76th Street
Limit: SCCNYC Members only, limit 10. Please join or renew your membership!
There will be 2 sets of the game available for play.
Food, Drinks, and Cocktails are available for purchase.
---