2018 Annual Scholarship Benefit
Featuring Farah Pandith '90, Smith Medalist 2014
---
Yale Club of New York City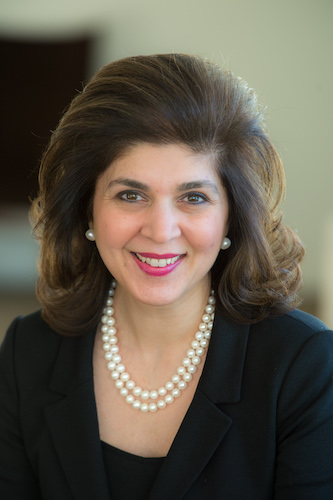 Farah, a pioneer in the field of countering violent extremism, will speak about the global trends affecting Muslim youth;
why and how extremist ideology gains traction; and how to defeat it. Her experience
in the years after 9/11 working at the highest levels of our government took her to nearly 100 countries.
She will share her insights and provide fresh ideas about opportunities and challenges we all face.
Read more about her work and accomplishments below.
---
6:30 pm
Refreshments & Hors d'oeuvres
7:15 pm
Keynote: "How to Defeat the Extremist Threat"
Up to one (1) ticket available
Does not inclue tickets to the event
Angels, Sponsors, and Patrons will be listed in Benefit Program.
made payable to Smith College Club of New York City,
8554 260 Street, Floral Park, NY 11001.
Proceeds benefit the Smith Scholarship Fund and are dedicated to
providing critical financial aid to students from the Greater New York area.
We look forward to seeing you at what promises to be an extraordinary evening.
Thank you for your valued support of the Smith College Club of New York City.
---
Farah Pandith '90 is a diplomatic entrepreneur, foreign policy strategist,
and
author. She is a leading expert and pioneer in the field of countering violent extremism. Appointed the first-ever special representative to Muslim communities, she served under both Secretary Clinton and Secretary John Kerry. In this role, she was responsible for engagement with Muslims around the world. She served as a political appointee in the George H.W. Bush, George W. Bush, and Barack H. Obama administrations at the National Security Council, US Agency for International Development and US Department of State. Her forthcoming book is How We Win: How Cutting-Edge Entrepreneurs, Political Visionaries, Enlightened Business Leaders and Social Media Mavens Can Defeat the Extremist Threat (HarperCollins).
Ms. Pandith is a frequent media commentator and public speaker. She is an adjunct senior fellow at the Council on Foreign Relations and a senior fellow at Harvard University's Kennedy School of Government. She advises governments and
companies,
and is building innovative global programs dedicated to mobilizing youth against extremist ideologies. Ms. Pandith served on the Homeland Security Advisory Council (2015-2017) and was Senior Advisor and Commissioner of the CSIS CVE Commission Report Turning Point. Prior to re-entering government in the aftermath of the 9/11 attacks, Ms. Pandith was Vice President of International Business at ML Strategies, LLC. She has served as SGA president of Smith College and a Trustee; she is a Smith College Medal recipient.
---
---