Cultivating a Child's Love of STEM
Thursday, August 20th, 1:00 PM - 2:30 PM
---
Meet an outstanding neuroscientist running her own lab and writing children's books to inspire BIPOC children's interest in the sciences. Parents and Grandparents with children (ages 7 through 10), Alums interested in science and education, and aspiring writers of children's books are invited to join Theanne Griffith '08 for a look at her career, her passion about 'Cultivating a Child's Love of STEM' and what inspired her to write the children's book series "The Magnificent Makers" – Riding on Sound Waves". There will be a story-time reading from her latest book during this exciting Zoom talk.

This event highlights Theanne Griffith '08, neuroscientist, mother and author of the science-based adventure series for children - The Magnificent Makers. Theanne will talk about how, during a maternity leave, her career as a scientist took a sudden turn as she embraced her passion for books and writing and the children's book series was born.

Her books focus on scientific thinking and fostering a love of science, particularly in girls and children of color. During the Zoom we will discover:
Theanne's career path from Smith to heading a research lab to writing
The inspiration and goals of The Magnificent Makers
Cultivating a child's love of STEM
The difficulty parents have in bringing BIPOC children into the STEM fields
Suggestions for parents who face difficulties in engaging their children in science while teaching at home

There will be a short reading from Theanne's latest book, Riding Sound Waves, which is scheduled for publication on September 8, 2020. Children are welcome to attend this portion of the program.

From NPR podcast Kids Books Where Science is the Adventure: "The books follow two third graders, Violet and Pablo, through science-based adventures. In each book, they are zapped through a magical scientific instrument into an alternate universe, where they complete challenges that test their scientific knowledge. Readers are able to complete exercises along with the pair and at-home experiments are included at the end."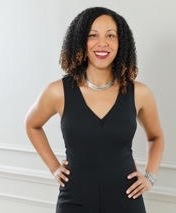 About Theanne Griffith, class of 2008
Theanne Griffith received her BA in neuroscience and Spanish from Smith College, and earned her doctorate in neuroscience from Northwestern University. A mother of two and a lifelong lover of science, she has built a career in neuroscience as a researcher. She will be opening her own lab in the Department of Physiology and Membrane Biology at the University of California Davis this fall.

Her children's books include How to Test a Friendship and Brain Trouble, published by Random House Children's Books. Her third book in the series, Riding Sound Waves, will be released on September 8th, 2020.

For more about Theanne, visit https://www.theannegriffith.com/.
Check out this insightful podcast interview, Science is for Everyone, for The Parent Scoop, where she discusses current issues and ways to encourage children to embrace STEM fields.

Learn how to get your kids talking about the brain with this fun and quick video.
Follow Theanne on Twitter, Facebook, and Instagram.
Topic: Cultivating a Child's Love of STEM
Date: Thursday, August 20, 2020
Time:
1:00 PM - 1:30 PM: Cultivating a Child's love of STEM
1:30 PM - 1:55 PM: Q&A and brief pause
2:00 PM - 2:30 PM: Storytime (EDT)

You must be registered before 10:00 AM on Thursday, August 20, 2020, to join the event.
Limit: 50 participants.
The Zoom link and password details will be shared a few days prior and again on the day of the event.