Witches in Connecticut - Even Before Salem
Sunday, November 1st, 4:00 - 5:00 PM
---
Cotton Mather, Wonders of the Invisible World, 1693
Enjoy Halloween to the fullest!
No need to stop after you've tricked and treated. Complete the weekend with other Smith alums at a virtual aural and visual telling of the harrowing story of the hangings of the witches in Connecticut. Predating the more famous Salem witch panic by more than 40 years, this story continues to haunt the present-day imagination!
You will hear the stories of some of the women and men accused, tried, and executed as witches in a one-hour presentation and Q/A session by the Connecticut Historical Society museum and library, guided by Adult Program Manager, Natalie Belanger, Smith College Class of 1999. Learn how Connecticut successfully controlled the spread of witch accusation long before Salem erupted in panic and violence.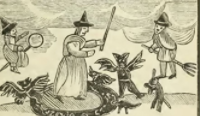 Illustration from John Ashton, Chapbooks of the Eighteenth Century, courtesy Project Gutenberg
A private nonprofit educational organization established in 1825, the Connecticut Historical Society is the state's official historical society and one of the oldest in the nation. Located at one Elizabeth Street in Hartford, the CHS houses a museum, library, and the Edgar F. Waterman Research Center that are open to the public and funded by private contributors. The CHS collection includes more than 4 million manuscripts, graphics, books, artifacts, and other historical materials, accessible on-site and/or on loan to other organizations.
Topic: Witches in Connecticut - Even Before Salem
Date: Sunday, November 1, 2020
Time: 4:00 - 5:00 PM (EST)

Limit: 100 participants.
Cost: $5 members and non-members
You must be registered before 12:00 PM on Sunday, November 1, 2020, to join the event.
The Zoom link and password details will be shared the day prior and again on the day of the event, following the close of registration.