Women's Works: Female Artists at the Metropolitan Museum of Art
Thursday, March 18, 7:00 PM - 8:30 PM
| | | |
| --- | --- | --- |
| | | |
| | | Julie Le Brun (1780–1819) Looking in a Mirror by Élisabeth Vigée Le Brun, 1787 |

In honor of Women's History Month, take a virtual "walk" through the galleries of the Metropolitan Museum of Art with art historian and professional guide Emma Guest-Consales, '90, Ph.D., as she shows us some of the most important works created by women who were often limited by their gender in the subjects or mediums in their artistic endeavors. You also will learn how female collectors helped to shape The Met itself.
SCCNYC commissioned Emma to curate this event, specifically in honor of Women's History Month and with you in mind. Wherever possible, all of the objects shown are currently on view at the museum so attendees will be able to see them independently in person at leisure, using the checklist that will be provided for the presentation.
Who do you think these artists will be (with the exception of Élisabeth Vigée Le Brun)? Fill in the name of your best guess and submit it on the Google Form link provided here: https://forms.gle/oQKzy4jq9A8vHo4NA
Registered participants, providing correct guesses, will participate in a drawing for thematically-related prizes. Take a chance!
About Emma Guest-Consales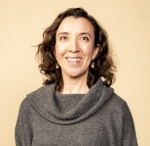 Emma Guest-Consales, Ph.D., (Smith '90) is an art historian and professional licensed New York City tour guide. She received her BA at Smith, her MA from NYU and her Ph.D. from Rutgers University. A former adjunct professor of art history, as well as a long-time employee and volunteer at The Met, Emma is President of the Guides Association of New York City (GANYC) and Tour Ambassador Captain at the One World Observatory. She has been a professional tour guide for over a decade, leading small groups and private clients through the city's most famous neighborhoods and museums; today her tours are primarily virtual events.
Website: https//mynyctours.com/

Topic: Women's Works: Female Artists at the Metropolitan Museum of Art
Date: Thursday, March 18, 2021
Time: 7:00 PM to 8:30 PM (EST)
Limit: 100 participants
Cost: Free to Members and Non-members
You must be registered before 4:30 PM on Thursday, March 18.
The Zoom link and password details will be shared by 5:00 PM on the day prior to the event and again, two hours before the event start.