Hidden in Plain Sight: Central Park, Manhattan's Greatest Work of Art -
A Walking Tour and Lunch
NEW DATE - RAIN DATE!
Sunday , October 31 , 10:00 AM - 1:00 PM
Enjoy the beautiful fall weather, the changing colors of the leaves and the company of other Smith alums for a 2-hour walk through Central Park led by professional NYC guide, Emma Guest Consales (Smith '90), under the aegis of "Bowery Boys Walks." Then enjoy a leisurely picnic lunch in the park. Just bring a salad or sandwich (or two). Share halves, if swapping is something you used to do during your earliest school days. SCCNYC will provide other accoutrements, such as sides, sweets, drinks (non-alcoholic), seasonal delights and surprises. After all it is Halloween day!
We all 'know' Central Park but do we? Central Park is the largest surviving piece of open space and, arguably, the greatest 19th c. work of art in Manhattan, an endless source of delight for visitors for nearly 150 years. Designed by Frederick Law Olmsted and Calvert Vaux starting in the late 1850s, natural and manmade elements were assembled to give the visitor a moment of ease and tranquility, far from the frenetic life of the city just outside the park walls. Central Park is also a fine example of 19th-century ideas about the power of a city's government and government officials to positively affect the lives of its citizens. We will see how Vaux and Olmsted envisioned a democratic space for all New Yorkers and visitors, no matter their social or economic status, an essential aspect of the park's history that still applies today.
We will meet in front of the statue of General Sherman in Grand Army Plaza (Fifth Ave. and 59th Street, near the Plaza Hotel) at 10:00 am. The tour will conclude at noon in Strawberry Fields near West 72nd Street and Central Park West. Our lunch will commence nearby at picnic tables, if available, or on an appropriate green space . (SCCNYC will supply coverings, as needed.)
Due to persistent and worsening projections (68%) for rain on Saturday, following rain (100%) on Friday, the event has been moved one day later to Sunday, October 31st - same time, same station. We hope that all who previously signed up will be able to make the switch!
COVID PRECAUTIONS:
Although this event will take place with a limited number of guests (maximum-20) and will be an out-of-doors activity, in keeping with SCCNYC requirements, all participants must be fully COVID-19 vaccinated, i.e., at least 14 days following a second dose in a two-dose vaccine series or after a single-dose vaccine approved or authorized for use by the U.S. Food and Drug Administration (FDA) or by the World Health Organization (WHO) and a valid proof of vaccination: Android/iOs; Excelsior Pass; CDC Vaccination Card (or photo); NYC Vaccination Record, or an official immunization record from outside NYC or the U.S.
About Emma Guest-Consales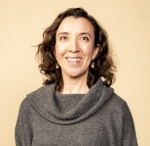 Emma Guest-Consales, Ph.D., (Smith '90) is an art historian and professional licensed New York City tour guide. She received her BA at Smith, her MA from NYU and her Ph.D. from Rutgers University. A former adjunct professor of art history, as well as a long-time employee and volunteer at The Met, Emma is President of the Guides Association of New York City (GANYC) and Tour Ambassador Captain at the One World Observatory. She has been a professional tour guide for over a decade, leading small groups and private clients through the city's most famous neighborhoods and museums; today her tours are primarily virtual events.
Website: https//mynyctours.com/

Topic: Hidden in Plain Sight: Central Park, Manhattan's Greatest Work of Art - A Walking Tour and Picnic
Date: Sunday, October 31, 2021
Time: 10:00 AM to 12:00 PM (ET) - tour; 12:00 PM - 1:00 PM and beyond?? (picnic luncheon)
Place: In front of the statue of General Sherman in Grand Army Plaza (Fifth Ave. and 59th Street, near the Plaza Hotel)
Limit: 20 participants
Cost: Members - $7 and Non-members- $15
Click to Register - Members
Click to Register - Non-members
You must be registered before 5:00 PM on Saturday, October 29