Ghosts of the Berkshires and the Pioneer Valley - A Pop-up Halloween Zoom
Always Scarier After Dark!
Thursday , October 28 , 8:30 PM - 9:30 PM
Before it became a haven for arts and culture, the Berkshires and the Pioneer Valley in Western Massachusetts was a rugged, sparsely populated frontier. From the early days of revolutionary fervor and industrial enterprise to today's tourism, many chilling stories remain. A lost girl haunts a cemetery in Washington, and mysterious spirits still perform at Tanglewood. From the ghostly halls of the Houghton Mansion to the eerie events at the Hoosac Tunnel, residents and visitors alike have felt fear and awe in these hills, telling tales of shadow figures, disembodied voices and spectral trains.
This Halloween, experience the thrills of spooky ghost stories right from your own home! SCCNYC is hosting author Robert Oakes for this uniquely tailored online program of local legends. He will share some supernatural stories of Central and Western Massachusetts that are perfectly suitable for a dark late October evening.
About Robert Oakes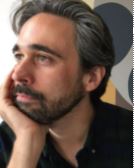 Robert Oakes is a writer, teacher, storyteller, and singer/songwriter, originally from norther New Jersey and currently residing in the Berkshires in Western Massachusetts. In 2020, Robert's debut book, Ghosts of the Berkshires, was published by Arcadia Publishing. He is currently working on his econd book which will explore the ghost lore of his home state. Since 2010 Robert has led the ghost tours at Edith Wharton's The Mount in Lenox, MA and has represented the museum and its ghosts on Syfy's Ghost Hunters, Jeff Belanger's New England Legend series on PBS, and The Apple Seed show on BYUradio. In 2021, Robert also began leading ghost tours at Ventfort Hall and the Church on the Hill, both in Lenox. Robert has written and produced media for AAA, Canyon Ranch, and a number of other organizations and performs as part of the Berkshire-based folk music duo Oakes and Smith. He has also taught elementary, middle, and high-school English and is currently pursuing his Master's degree at the Middlebury Bread Loaf School of English in Middlebury, VT.
Topic: Ghosts of the Berkshires and the Pioneer Valley
Time: 8:30 AM to 9:30 PM (ET)
Limit: Unlimited
Cost: Members - free; Non-members- $5
Click to Register - Members
Click to Register - Non-members
You must be registered before 6:00 PM on Thursday, October 28. Zoom information will be providedby 5 PM the day before the event and again a few hours before the event start.