It's a Pecan Party! and tour at the Society of Illustrators
Wednesday, December 8 2PM to 5PM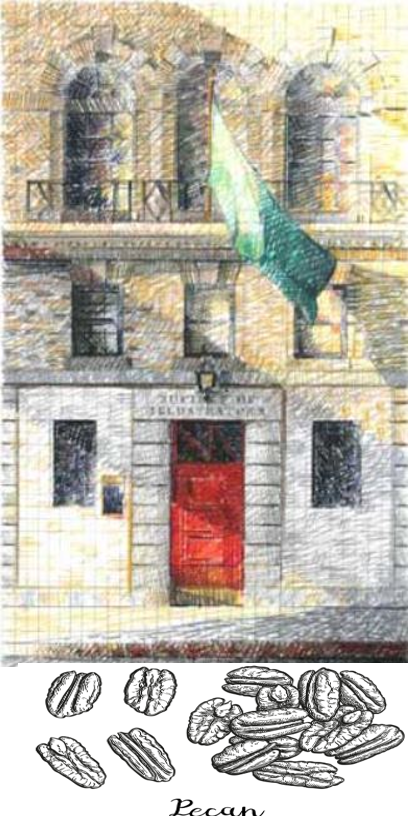 ~
Now you can buy smaller quantities of Smith Pecans of mixed varieties for the Holidays - fewer than six at a time - and contribute to the NYC Smith College Scholarship Fund! Enjoy some pecan samplings, an aperitif (cash bar) and get an exclusive behind-the-scenes guided tour of the Society of Illustrators' Permanent Collection.
The Society of Illustrators (SI), the oldest nonprofit organization dedicated to the art of illustration in America, will host our party on Wednesday afternoon from 2PM to 5PM. The approximately one-hour tour, conducted by the Collections Manager will begin at 3PM. The Permanent Collection, which includes over 3,500 pieces includes works from notable Society members including N.C. Wyeth, Rube Goldberg, and Norman Rockwell, among many others.
Pecan sales will continue throughout the afternoon. The tour is free-of-charge for Smith alums and does not require a pecan purchase.
The same varieties of 2021 Pecans, as the Club has traditionally-sold– Mammoth halves, Dark Chocolate Covered and Milk-Chocolate Covered will be on-hand for on-site purchase at prices comparable to those of 2020!
2021 Pecans Cost and Donation
- Mammoth Halves Plain (1-16 oz. bag) - $16.00 + $2.00 = $18.00
- Dark Chocolate Covered (1 - 12 oz. bag) - $14.00 + $2.00 = $16.00
- Milk-Chocolate Covered (1 - 12 oz. bag) - $14.00 + $2.00 = $16.00
Group purchases on behalf of a consortium of friends, unable to attend this daytime event, individually, will be welcome, appreciated and honored.
SI's location at 128 E. 63rd St., New York, NY 10065 is convenient for most of us and pecans will be sold on the first floor making the facility ADA accessible. As always, we will adhere to SI's Covid precautions policies which conform to those of NYC, CDC and WHO.
COVID POLICY AND PRECAUTIONS
This is an in-person event. All participants must show proof of vaccination in accordance with NYC requirement. (People 12 and older are required to show proof they have received at least one dose of a COVID-19 vaccine authorized for emergency use by the FDA or WHO) and wear a mas when they are not eating or drinking. To learn more about the Society of Illustrators Safety Protocols, please go here. https://societyillustrators.org/safety-protocol/
Topic: It's a Pecan Party! and tour at the Society of Illustrators
Location: 128 E. 63rd Street, New York, NY 10065
Date: Wednesday, December 8, 2021
Time: 2PM to 5PM: 1-hour guided tour of the Permanent Collection at 3PM
Limit: Unlimited except for COVID-19 precautions, ~ up to 40 guests at any given time
Cost: Members and non-members - Free-of-charge
PLEASE REGISTER but WALK-INs ARE WELCOME! Click to Register