SCCNYC

Annual In-person Holiday Party
Tuesday, December 14, 2021 6:45PM - 9:00PM

Meet and greet at the DC Moore Gallery at 535 West 22nd Street on the 2nd Floor for an elegant evening with refreshments (savories and sweets), including an open bar! starting with a gallery tour- as well as some other fun surprises.
We are indebted to gallerist and Smith alum Bridget Moore, Class of '79, who has graciously once again offered us the use of her beautiful space for the evening's soiree that will begin promptly at 6:45PM with a gallery tour of the current show by Whitfield Lovell Le Rouge et Le Noir.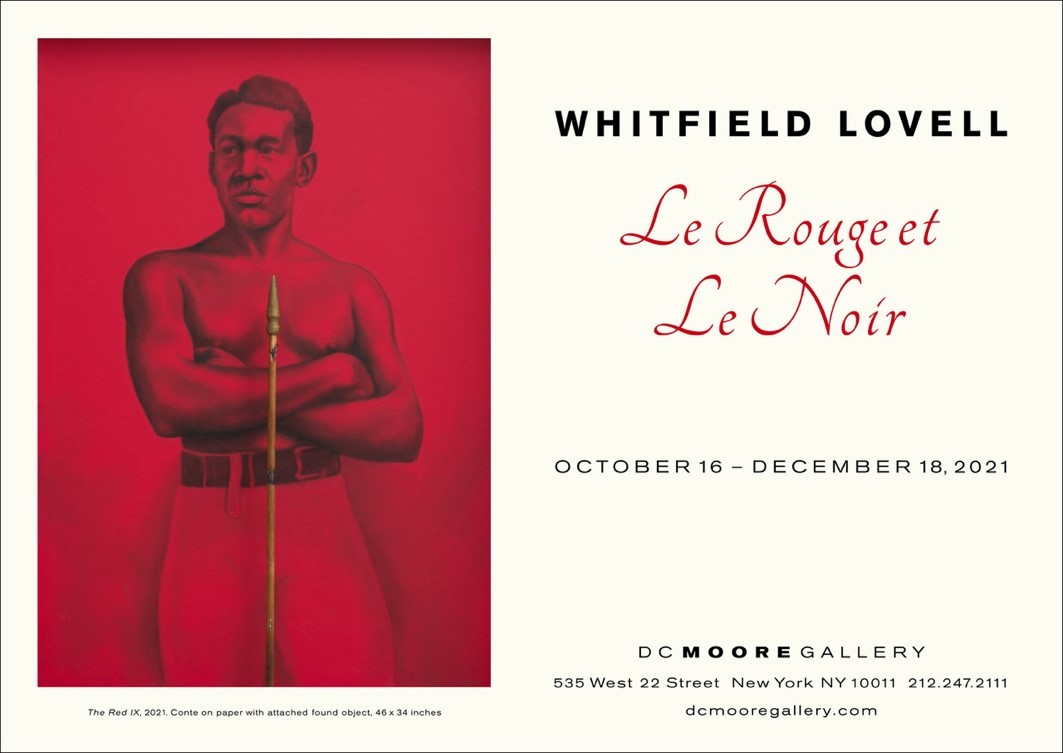 .
Through his works and installations, Whitfield Lovell creates spaces for memory, metaphor, and emotional exploration that asks pressing questions about the past and the present. By way of Lovell's multi-sensory installation, the exhibition Le Rouge et Le Noir (the Red and the Black) unfolds throughout the gallery space as a journey of exploration. Hope and threat intertwine, and the symbolic use of color by the artist is powerful and evocative.
About Whitfield Lovell
The recipient of the MacArthur Foundation Fellowship Award in 2007, Whitfield Lovell has been the subject of numerous exhibitions, most recently Inbox: Whitfield Lovell at the Museum of Modern Art in 2017, Whitfield Lovell: Kin Series & Related Works at the Phillips Collection in Washington, DC in 2016-17. The American Federation of the Arts organized the major traveling museum exhibition Whitfield Lovell: Passages to tour the country from 2023 to 2025. Lovell's work is part of many public collections including the Brooklyn Museum, NY; High Museu of Art, Atlanta GA; Metropolitan Museum of Art, New York, NY; National Gallery of Art, Washington, DC; Whitney Museum of American Art, New York, NY; Smithsonian National Museum of African American History and Culture, NY; New Orleans Museum of Art, LA and many others.
"Lovell's work is pure visual poetry...It is a remarkable thing for a black visual artist working with black subjects to be able to slip away from easy politicization, from the narrowness of representation, and to reach toward the expression of black humanity. It is remarkable, also, to mae the argument that Lovell makes so well with his work - that what is black is at one particular and universal, familiar and unknowable."
- Kevin Quashie, published in Whitfield Lovell: Kin, 2016, p. 12.
Topic: SCCNYC Annual In-person Holiday Party
Date: Tuesday, December 14, 2021
Time: 6:45 pm to 9:00 pm (ET) Please arrive a few minutes early so that the check-in process can proceed smoothly and the tour begin on time.
Location: DC Moore Gallery, 535 West 22nd Street, 2nd Floor
Limit: Attendance will be limited to 70 participants
Dress code: Cocktail (obviously subject to interpretation)
Cost: Members - Free-of-charge; Non-members - $20
We ask that you register in advance to assist us in preparations but walk-ins will be welcome, unless event registration is at full capacity. In that event, notification will be provided via website
Click to Register (Non-Member)
COVID POLICY and PRECAUTIONS
All attendees must be fully vaccinated. You are considered fully vaccinated two weeks after you have received a second dose in a two-dose vaccine series or two weeks after you have received a single-dose vaccine with a vaccine approved or authorized for use by the U.S. Food and Drug Administration (FDA) or by the World Health Organization (WHO).

All attendees must provide in person verification of vaccination. You will be asked to provide proof of vaccination through th CLEAR app (if available to you), the Excelsior Pass (for New York State residents), or an original physical vaccination card or photograph of it. A Board director(s) will review your proof of vaccination as you arrive at the event

.
Once approved, the following COVID-19 precautions will be taken to ensure your safety: Use of an appropriate face covering (masking) is suggested during elevator entry to the gallery and during the event except, of course, when eating or drinking.

There will be NO private area for attendees who might wish to remain masked at all times.
When:
6:45PM - 9:00PM Tue 14 Dec 2021, Eastern timezone

Where:
DC Moore Gallery
235 West 22nd Street
New York, NY 10011
[ Get Directions ]