the 2022 annual spring tea honors Alums.
After a two-year hiatus during COVID, the Smith College Club of New York City hosted the in-person 2022 Annual Spring Tea on June 5, 2022. The late afternoon High Tea at Kings' Carriage House was a cozy occasion to connect with friends old and new, and to honor Alums who have hosted events in the past.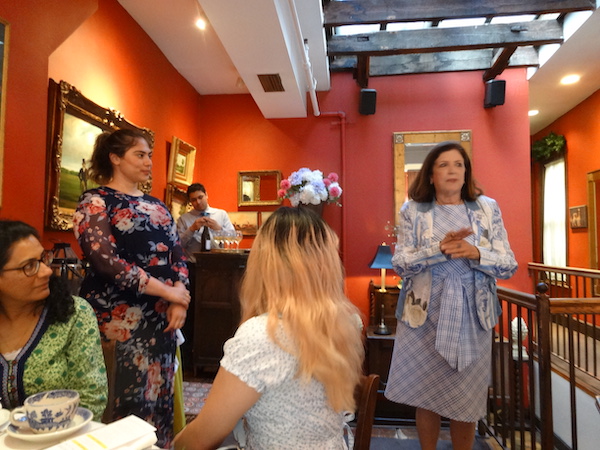 Thirty-three guests attended the Annual Tea, which began with a warm welcome by Events Co-Chair, planner and hostess of the event, Ellen Matzkin '69, and club President Zaineb Hamdan '15. Smithies from the class of 1955 to 2021 attended, and all raised glasses to toast honorees, former hostesses, generous volunteers and our newest Alums. Delicious tea sandwiches, a greens, honeyed pecans and goat cheese salad, scones with cream and jam, and delicate deserts were offered with a glass of bubbly.

The recognition of previous hosts paid tribute to their generosity and spirit of volunteerism, which is what has helped shape the SCCNYC of today. These guests have supported the Club for many years and they spoke of why they have been committed to this support so faithfully, and of the importance of volunteering.


Jill Witten '69 was a music major and is a pianist, teacher and coach. She exemplifies this spirit of community and volunteerism. She hosted two teas in her Fifth Avenue home in 2015 and 2017. Jill spoke about the importance of volunteering, and of renewing and making new friendships at reunions, as she did at her 50th reunion. She mentioned that she is now co-secretary for her 55th class reunion.

Barbara Massey '63 spoke about the origins of volunteerism and the benefits of volunteering. "The personal returns are greater than what one gives," she believes. Almost accidentally, Barbara had been asked to be a class agent because of her work in finance, and multiple positions followed - Alumnae Board of Directors, College Board of Directors, and Alumnae Trustee, - most often with roles in financial oversight or search committees. Barbara was delightful and animated as she discussed what these experiences were like. There were many questions from a rapt audience who would, otherwise, never have had a 'peek' into these areas.

Sylvia Lewis '74 gave her story - what it was like to be Black and part of the largest Black student class ever. That year, because of organized visits following acceptance, all accepted Black students attended. They rocked the boat, made their presence felt, challenged racism and to this day have remained a united force on campus, a lodestar for students who came after them. Their class dug deep and identified Otelia Cromwell as the first Black graduate in 1900. Sylvia and her classmates are responsible for the establishment of Cromwell day, which recognizes not only Otelia, but now her niece Adelaide, the first black faculty member from 1945-1947. Sylvia has hosted the NYC Cromwell Day celebration in her beautiful Tribeca penthouse for many years. One of the proudest achievements of this class of Smithies, was the establishment of the emergency fund, the Fund for Students of Color who require money on an emergency basis and Sylvia also established and is the 'President for life' of the Black Alumnae of Smith College (BASC).

Jan Oresman '55, an art history major, and art consultant creating major collections for major corporations and individuals, spoke about how being a minority race or religion had not been the only way to feel diminished at Smith. Admitted as a scholarship student from Minnesota, she failed to make Dean's List her first year and her scholarship was at least partially withdrawn. She was relegated to the work-study house, which was a trying experience where all anyone did was study in order to improve their grades. They had no money for any extras - even a 10-cent ice cream was considered an extravagance by fellow students in the same position.

Jan talked about finding art history, loving and finally excelling in it so that it became her life's work to this day. Every inch of space on the walls of her Park Avenue apartment is dedicated to art. It was there, that she hosted the first elegant SCCNYC Scholarship Benefit almost 20 years ago. Jan came to the tea armed with a slim book of color photographs marking that event, and also flashed a photograph of a younger Barbara Massey. All in all, she expressed how much Smith had given her - even through the hard times - and we were able to see how much she has given back, especially in support of the SCMA.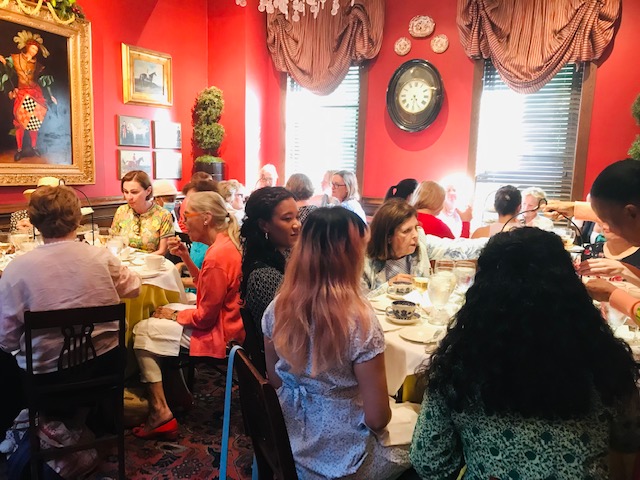 These wonderful hostesses and advisors, who have graciously invited Smithies into their homes or galleries for special events were the highlight of the afternoon tea. Each was presented with a gift from the club - a print of scenes from the Smith College campus.

The prints are from watercolors which had been commissioned roughly 25 years ago by Ann Ostergaard '58, now deceased, and painted by a Vassar alum and artist friend, Alice McClelland.

The 2022 Tea was cozy and lively, and enjoyed by all. We hope it will continue to be an annual event that we can all look forward to in the years to come.



- Jacqueline Anderson '80



Become a member of the Smith College Club of New York City - your support is welcome.