Admission Committee Year-End Report June 2022
The Smith College Club Admission Committee has made significant strides during the 2021-2022 academic year towards recovery from the disruption of the Covid pandemic.

We managed 77 requests for alumnae interviews - up from 32 the prior year. The committee was assisted in this effort by ten club volunteers during the busy holiday season.

The committee members sent personalized, congratulatory e-post cards to the 34 NYC students admitted under the Early Decision I and Early Decision 2 cycles.

We sent 'care packages' in the form of gift cards to each of the 230 current students from the NYC area during both the Fall 2021 and Spring 2022 final exam periods. The gift cards, valued at $10.00, were from the Northampton Chamber of Commerce in the fall, and from Herrell's Ice Cream & Bakery in the spring. Because students were back on campus this year, we were able to mail the physical gift cards to their campus mail boxes, thereby ensuring timely delivery.

We participated in a college fair - the first since the pandemic - at A. Philip Randolph Campus High School on April 5. The committee sent three volunteers to cover the six-hour event. We spoke with juniors from both A. Philip Randolph Campus High School and the High School for Math, Science & Engineering.

The college resumed programming for high school seniors who were accepted during the regular decision cycle and needed to make their college choice. Smith ran half-day recruitment programs on campus during three Saturdays in April. The committee provided two volunteers for each of those days to chaperone the buses to and from Northampton and converse with the students and their family members.

We are currently in the process of fulfilling book awards for 23 juniors from both public and private high schools in NYC. Each recipient will receive a copy of Amanda Gorman's The Hill We Climb, in addition to a certificate suitable for framing. Each book is inscribed with the recipient's name and high school, hand-calligraphed by a Smith College graduate who herself was a recipient of the book award. Our goal is to increase the outreach to NYC high schools and the number of awards presented each year. The number of participating schools is up from five in 2020 and 14 in 2021.

Additional opportunities for admissions-related club activities can include summer send-off parties for newly admitted students and special events for current students during school breaks. We will continue to rely on the generosity and commitment of club volunteers to make this happen.


- Joan Dilakian, Chair May 22, 2022
If you would like to volunteer for the Admission Committee, please contact us at: admissioncommittee@smithclubnyc.com


This year's selection was Amanda Gorman's Call Us What We Carry. Millennium Brooklyn High School sent us this photo of Tiffany Nguyen receiving her award from Principal Kevin Conway. As committee member Caren Leslie says, "This is why we do what we do!"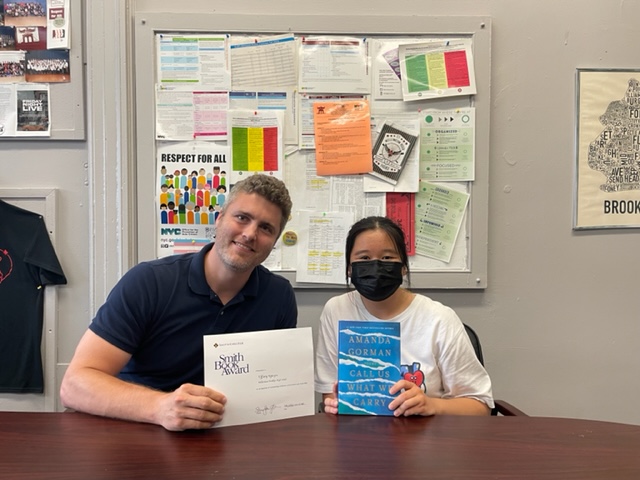 Millennium Brooklyn HS 2022


Become a member of the Smith College Club of New York City - your support is welcome.