October 31, 2021- News: A Walk in Central Park
Emma Guest Consales '90 really knocked it out of the park with a 2 hour walking tour of Central Park.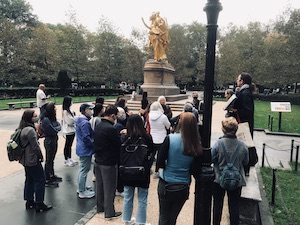 Smithies of all ages, many new to New York, enjoyed the walk which started at Grand Army Plaza where Emma Guest Consales '90 began the tour by explaining the history of parks in New York City and how Central Park came to be developed, it's principal planners and architects, and the growing need for urban green spaces in the 19th century.

The clever design for the park's 800 acres was the crowning achievement of Frederick Law Olmsted, designer of our own Smith campus, and Calvert Vaux, and was planned to provide an oasis for people of all classes to enjoy.
The building of the park in 1858 displaced roughly 1600 residents, many of whom resided in the African American community, Seneca Village, but the area was largely undeveloped and considered wasteland. With the completion of the park, Manhattan grew northward as builders and residents saw the advantages of living near this idyllic oasis. Olmsted and Vaux's intention was for rambling foot traffic, bridal paths and carriage roads intertwined, while also allowing hidden roadways to traverse the park without disrupting the bucolic experience of visitors, and this goal was spectacularly achieved.
From Grand Army Plaza, the group of 20+ Alums and guests continued to The Pond, the Hallett Nature Sanctuary and the Capstone Bridge where Emma explained the wildlife of the park and the active birdwatching enthusiasts that flock to this area, as well as the topography of the park. Each part of the park was carefully planned, blasted from the hard bedrock under the city, Manhattan schist, and carefully crafted for a variety of rural experiences designed to look wild and natural, with ponds, lakes and pastures dotted with rocky outcroppings throughout.
The tour wandered past the Wollman Rink and Chess & Checkers House to The Dairy, whose original uses were explained. There were once cows at The Dairy, which is now a newly renovated visitor's center.
N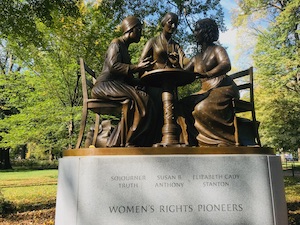 ext, the group wandered down The Mall, stopping at the recently added statue of Woman's Rights Pioneers, the only statue of women along this promenade of famous writers. Past the Naumburg Bandshell, the group spent time admiring the vista from the Bethesda Terrace with its intricate carvings along the grand stair.

From there, a wander along The Lake lead the group to stop at the second most photographed bridge in New York City, Bow Bridge, and past The Ramble, the most well-known of the Park's three woodland landscapes, to a picnic area where Ellen Matzkin, Vice-President for Events delighted the group with Halloween treats and refreshments.

Emma Guest-Consales, Ph.D., graduated from Smith in 1990. She is an art historian and professional licensed New York City tour guide and lead the group through a facinating tour during a sunny and warm fall day.
For more on the park's history visit the Central Park Conservancy website.

- Jacqueline Anderson '80

Scenes from the park